WHY WOULD YOU WANT TO USE A WI-FI HOTSPOT?
Accessing the internet is easier than you might think with this portable device that you can use at home, work or even a coffee shop. Checkout a JCPL Pocket Wi-Fi device to help with home internet access, keeping devices connected on vacation or even an outdoor Netflix viewing under the stars!
HOW DOES IT WORK?
A hotspot is a device you can use to connect a mobile-enabled device, such as a laptop, smartphone or tablet to the internet. The Pocket Wi-Fi is portable, and you can usually connect your device wherever there is a strong cellular signal. Up to 10 devices can be connected, with unlimited data.
HOW CAN I CHECK OUT A WI-FI HOTSPOT?
Pocket Wi-Fi can be placed on hold (in person, at the reference desk or through our online catalog) and can be checked out for 14 days. They can be renewed if there are no other requests. Limit one hotspot per library card/household. Also, Lucky 7 Pocket Wi-Fi is available for a 7-day checkout period on a first-come, first-served basis.
WHO CAN CHECK OUT A WI-FI HOTSPOT?
You must have a current Johnson County Johnson County Public Library card and be at least 18 years of age.

RESERVE a hotspot NOW!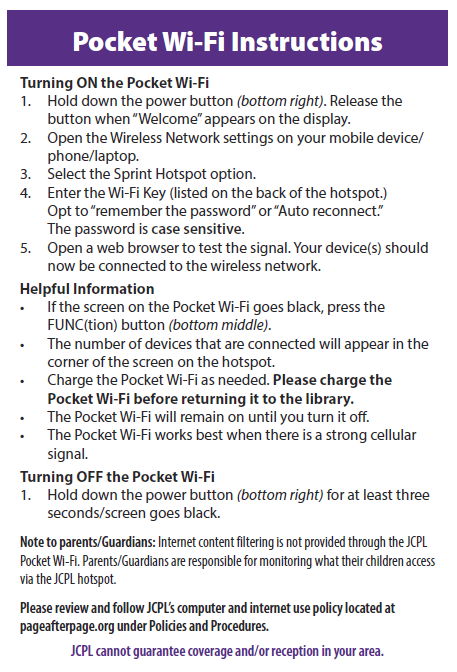 If you are in need of an affordable, internet solution, PCs for People might be an option. PCs for People is a 501(c)(3) non-profit organization that provides affordable computers, computer repair, and internet service to low-income families and nonprofits across the country. In addition, they provide digital literacy training to people with limited technological experience due to social, physical, or economic circumstances.
Mobile hotspot plans are also available to purchase through cell phone providers.