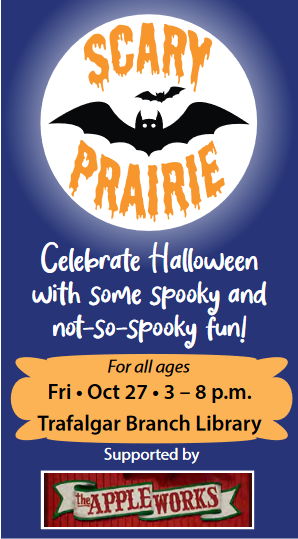 Scary Prairie
Join us for some spooky (and not-so-spooky) Halloween fun for all ages!

When: Fri • Oct. 27 • 3-8 p.m.
Where: Trafalgar Branch
Who: All Ages

This year we are excited to bring you a fall festival atmosphere with trick-or-treating for the littles and a chilling haunted house full of your favorite Stephen King characters.
Family-friendly carnival with food, games and crafts: 3-6 p.m.

Trick-or-Treat on the Prairie: 5-6 p.m.
Adult Haunt: Stephen King-themed vignettes inside the library: 6-8 p.m.
Supervision and activities for children in the Community Room: 6-8 p.m.
A special thank you to The Apple Works for their support of the event.