Teddy Bear Concert Series Presented by the ISO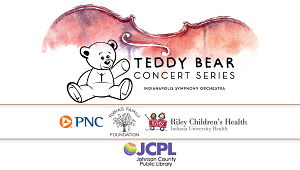 Preschoolers Will Learn Through Story, Movement and Live Music
Posted by: Johnson County Public Library | February 24, 2020
The Teddy Bear Concert Series introduces preschool and early elementary children to the instruments of the orchestra through story, movement, and live music played by musicians from the Indianapolis Symphony Orchestra. Come listen to the original stories by Victoria Griswold, dance along to the music, and get up close and personal with the instruments.

Children (ages 3-7) and families are welcome. Child's caregiver required for these programs.

The Big Note
Wed / Mar. 4 / 10:30-11:15 a.m.
Clark Pleasant Branch

The Big Note features the adventures of a young boy as he searches through a symphony orchestra to find the source of the big note that he hears.
The Giant's Violin
Sat / Mar. 21 / 10:30-11:15 a.m.
Trafalgar Branch

The Giant's Violin is an original story written by Victoria Griswold that follows the adventures of a young boy who discovers a giant violin in his attic!
The Garden Symphony
Sat / Apr. 4 / 10:30-11:15 a.m.
White River Branch

The Garden Symphony follows a ladybug's search through the garden for her own special song.
This program is sponsored by PNC, Riley Children's Health, and The Tobias Family Foundation. Learn more about the Teddy Bear Concert Series.