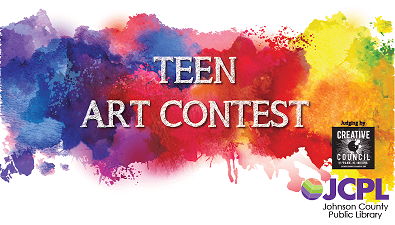 TEEN ART CONTEST
Many teen artists have a limited number of places to freely express and showcase their talents. This contest is an opportunity to share your talent and reach a large audience - all who visit our libraries. Thank you to the Creative Council of Franklin for judging the entries and congratulations to our winners!


2020 Contest Winners
6th-9th Grade
1st: Maria Bryan, 8th grade
2nd: Ava O'Sullivan, 6th grade
3rd: Mia Herbert, 8th grade
10th-12th Grade
1st: Emma Crowson, 12th grade
2nd: Mackenzie Clevenger, 10th grade
3rd: Satvika Anand Raj, 11th grade
Click here to see photos of the artists and their winning entries
Contest Dates:
Artwork was submitted
November 2-December 1, 2019 by 5 p.m.
The top three winners in each age category (grades 6-9 and grades 10-12) will win a prize. Winners will be announced in January.
Teen Art Contest Reception:
All submissions will be on display at the Franklin Branch from 2-4 p.m. on Saturday, January 11 for the Teen Art Contest Reception. All artists are invited to attend to showcase their submissions, and the general public is encouraged to stop by to meet the artists and view their works. Please join us as we celebrate our talented teen artists' artwork and enjoy light refreshments.

Artwork Display Information:
Artwork may be picked up at the Teen Art Contest Reception on Saturday, January 11, 2020 from 2 p.m. - 4 p.m. If you are unable to attend, please call Kelly Staten at the Franklin Branch to arrange a date/time for pick-up. Submissions will be held for three months and then the library has the right to discard if artwork is not picked up by then.

If you have any questions, please contact Kelly Staten, 317-738-2833.

*Artwork will be judged by members of the Creative Council of Franklin, Indiana.