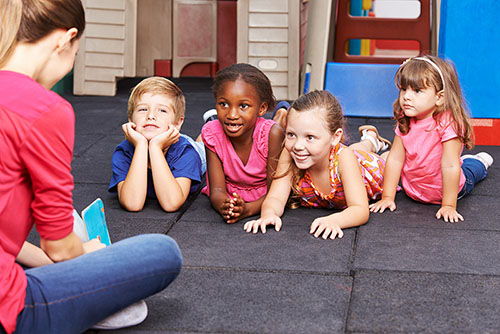 Selecting a child care provider can be one of the most stressful decisions ever made by parents.
You want your child to be safe and nurtured. Yet, you need someone who can provide the service within your budget. That's why doing research online and visiting potential providers are helpful in your child care selection process.
Websites such as ExploreJoCoChildcare.org and ChildcareIndiana.org provide great lists of recommended providers who are in good standing with your community.
One question, though, comes up for parents who are searching for quality, yet affordable child care. What is the difference between Unlicensed and Licensed providers?
In Indiana, licensing requirements primarily depends on the number of children being cared for at any given time.
Here are other facts that might help you understand the differences:
Unlicensed Providers
Unlicensed, at-home sitters often have provided devoted care to little ones for years. Many have raised their own children. Sometimes, they are former teachers or preschool professionals who prefer to serve one or two children at home. Other times, they are relatives or friends.
Unlicensed providers tend to be more flexible with scheduling and can be more affordable.
Indiana law states that licensing is not require for in-home child care providers if they:
Do not receive regular compensation (for example, paid by the hour instead of a set amount each week).

Care only for children who are related to them.

Care for fewer than six children, not including their own children who might be at their home.

Serve migrant children.

Indiana also does not require a license for churches or ministries that operate child care programs, although they must pass safety inspections. The state also encourages religion child care operators to attend training.
Indiana passed new laws in 2015 that require unlicensed providers who accept federal child care vouchers to meet basic health and safety standards, including:
A written policy on how it maintains safe conditions.

Programs for active and quiet play, including outdoor activities.

Amounts of drinking water and snacks to be provided.

Minimal education programs to be provided.

Licensed Providers
Indiana's regulations for licensed child care providers are administered by the Indiana Family and Social Services Administration's Office of Early Childhood and Out-of-School Learning. You can find a list of every licensed child care provider in Indiana by clicking here.
Home providers must be licensed if they serve more than six children and receive regular compensation for specific hours of care. The state requires them to:
Pass rigid background checks.

Attend orientation sessions.

Work with a licensing consultant.

Pass home inspections.

Licensed child care centers have the same training and inspection requirements as in-home providers. In addition, they must:
Meet local zoning requirements.

Operate in structures that meet local and state building codes.

Pass inspections by Indiana's Fire and Building Safety Division.

The State of Indiana's website provides lots of great information about child care licensing and reporting. Click here to view.
It's OK for you to ask a lot of questions and to carefully consider which best fits your family's needs. Your child is depending on it.