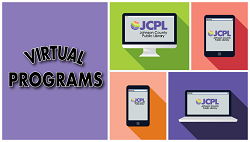 Attend JCPL Programs Online
We're moving some of our programs online! We invite you to participate virtually with your computer or mobile device. Follow the link for each program to register online - you'll receive a Zoom link and password prior to the event.
Keep an eye on our Facebook page for new content from our programmers every weekday!
Adult Learning Center Programs
Contact Wendy at wpreilis@jcplin.org or Samantha at sgutierrez@jcplin.org to receive an online invitation to any of the classes.

Tuesdays in July / 10-11 a.m.
Beginning English Conversation Group
This group gives people who are just starting to learn English as a second language a chance to practice their skills.
Wednesdays in July / 10:30-11:30 a.m.
ESL Conversation Group
Practice speaking English and learn American culture.
Fridays in July / 10-11 a.m.
News for You
Discuss current news topics with others studying English as a second language. Contact Wendy or Samantha for the password.

Virtual Programs
Mon / Jul 13, Jul 20, Jul 27 / 6-7:30 p.m.
Family Dungeons and Dragons - (with D&D 5th edition)
Flex your imagination and role-play muscles with library compatriots! Play and explore in a fantasy world with Dungeons and Dragons. No experience needed. Join online here: https://cutt.ly/oyfh2w4
Mon / Jul 6-11 / All Week
Flat Friends In and Out of Town
Stop by the Clark Pleasant Branch this week and get a "Flat Friend" (like Flat Stanley).

Mon / Jul 6 / YouTube
Storytime Yoga
Get some stretching in with your storytime! Ms. Sarah will show you some easy yoga poses as well as have storytime at home with you.

Mon / Jul 6 / 6:30-8 p.m.
Stout Stories
You don't have to choose between book club and happy hour! For July the theme is mysteries. Read a mystery book of your choosing and come prepared to talk about it! Please register.

Tue / Jul 7 / YouTube
Teen Writing Workshop
Teen librarian Liz from the Franklin Branch takes you through the writing process. From idea conception to the story climax and eventual ending, you'll be fleshing out those story ideas in no time!

Wed / Jul 8 / YouTube
Songs and Rhymes
Gather 'round for some fun songs and rhymes with Ms. Kalen from the Franklin Branch.

Thu / Jul 9 / YouTube
Guitar Chords for Beginners
Learn some easy guitar chords with David from the Franklin Branch. Once you have the basics down, check out more on our Artistworks database.
Thu / Jul 9 / 6-7 p.m.
"Hate U Give" Community Book Discussion
A discussion with the Franklin College Center for Diversity and Inclusion about "The Hate U Give" by Angie Thomas. We'll discuss the book and offer ways for you to continue your education. Please register.
Fri / Jul 10 / YouTube
Beginning Origami
Heather from the Franklin Branch has put together several videos to help you learn some simple origami folds. Pick-up a Beginning Origami folder at any JCPL branch.
Sat / Jul 11 / 2-3 p.m.
Military Reads - "Jimmy Stewart: Bomber Pilot"
Are you a reader of military non-fiction and the occasional military fiction book? If so, your orders are to attend the discussion for "Jimmy Stewart: Bomber Pilot" by Starr Smith. Please register.
Mon / Jul 13 / 7-8 p.m.
Middle School Book Club: "The Red Pyramid" by Rick Riordan
Join us from the comfort of your home as we discuss "The Red Pyramid" by Rick Riordan. The title is available on Hoopla. Please register.
Mon / Jul 20 / All Week
Libraries Are Treasures!
This week stop by the Clark Pleasant Branch to get a clear berry basket from a box at the branch front door to make a treasure chest.

Thu / Jul 23 / 6-7 p.m.
Name That Tune Trivia: 60s Edition
Relive the groovy times of the 1960s and test your knowledge of '60s music. Please register.

Thu / Jul 23 / 6-7 p.m.
How to be a Better Writer
You don't have to be perfect. "Perfect" is a trap. Just get better. Author Myra Levine will give you advice on how to start the process of improving and gaining confidence. Please register.

Sat / Jul 26 / 10 a.m.-6 p.m.
Friends of JCPL One Day Book Sale
This One Day Sale will be held in the parking lot. Books, CDs, DVDs, audio and video tapes and books-on-tape/CD will be sold at bargain prices. Items may be purchased with credit card, cash or check.

Thu / Jul 30 / 6:30 p.m.
Anime Club Movie Night: "Lu Over the Wall"
Pop your popcorn and get comfortable at home as we watch and discuss "Lu Over the Wall." A link to the Zoom session will be emailed to all registrants on the day of the book club. Please register.

If you've been missing storytime with our wonderful children's librarians, we created this YouTube playlist of our staff performing their favorite storytime rhymes and songs. Bookmark that link, because we'll continue adding new content featuring your favorite children's librarians.