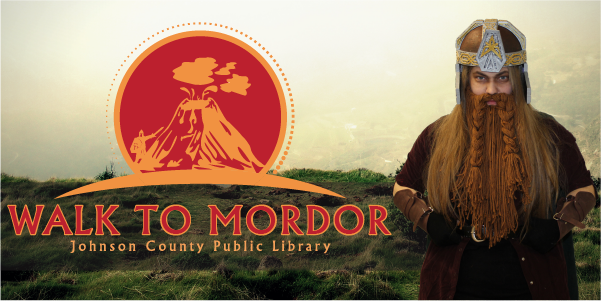 Walk to Mordor
April 1-30, 2021
Register
*Please enter weekly walking totals ONCE per week in Beanstack, on the Wednesday of each week.*
April is a great time to get out and enjoy spring. JCPL is encouraging you to "Walk to Mordor", the location of the infamous Mt. Doom. If you are a fan of the "Lord of the Rings" you may know that the walk to Mordor is 1,779 miles. Which is a lot of walking in one month. Since the books are fiction, we figured we could adjust the rules to make it possible to get to Mordor by April 30, 2021.
For every one mile you walk in April, you count it as ten miles towards Mordor. That cuts the distance to just 177.9 miles, or an average of 5.93 miles per day. Don't worry, even if you don't make it all the way you still get cool stuff. Just for registering you'll get a JCPL button that says "I'm Walking to Mordor and All I Got was this Lousy Button" button. Weekly prizes include Funko Pop Gimli, Sauron action figure, Lord of the Rings movie collection or a Lord of the Rings mug.
The person who walks the most miles in April will get a boxed set of the "Lord of the Rings" books and the next nine who walked the most will receive a copy of "The Hobbit." Any ties will be broken by a random drawing.
It's a long way to Mordor. Be ready to start walking by registering at jcpl.beanstack.org beginning April 1 or stop by any JCPL branch and pick up an illustrated log sheet and map.

*Please enter weekly walking totals ONCE per week in Beanstack, on the Wednesday of each week.*