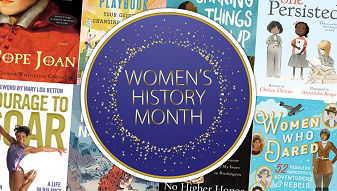 Celebrate Women's History Month at the Library
JCPL is celebrating Women's History Month throughout March with special programming. Join a enlightening book discussion, visit our traveling exhibit about Suffrage, learn about scientists, artists and more!
Women's History Month Booklists
Women's History Month Books for Children
All Month Long
Securing the Vote: Women's Suffrage in Indiana - Indiana Historical Society Traveling Exhibit
Franklin Branch
Explores how women across the state labored for suffrage through countless meetings, campaigns and other grassroots efforts. The traveling exhibit covers the first Indiana Woman's Rights Convention held in Dublin, Indiana, in 1851, and follows the fight through Indiana's ratification of the Nineteenth Amendment in 1920. Along the way, it delves into stories of change at the local level, such as the first woman elected to the Indianapolis School Board in 1909. The exhibit also follows the evolution of state groups, such as the Legislative Council of Women.
Wed / Mar. 2 / 5:30 p.m.
Women of "Downton Abbey" Tea & Discussion - at the Fireplace
Trafalgar Branch
Do you love "Downton Abbey?" Excited about the new movie? Then join us at the fireplace, have an English tea and discuss the role of women during that time period. For Adults and Teens.
Register
Thu / Mar. 17 / 4:30 p.m.
Do You Want To Build A Space Shuttle?
Trafalgar Branch
Test your knowledge of Women's History Month! Learn about women of the past and present who have made the world more connected, creative, and innovative. For School-Age.
Register
Fri / Mar. 18 / 5:30 p.m.
Book Discussion @ The Artcraft - "Pride & Prejudice" by Jane Austen
Join JCPL Director Lisa Lintner for a book discussion of Jane Austen's "Pride and Prejudice" in the Greenroom at the Historical Artcraft Theatre. This program is in partnership with the Jane Austen Society of North America – Indiana Region and the Historic Artcraft Theatre's Reel Women-Vintage Wine series, which is showing the 2005 film version of "Pride and Prejudice" at 7:30 p.m. For Adults and Teens.
Register
Mon / Mar. 21 / 6:30 p.m.
Monday Night Book Group - "Somebody's Daughter" by Ashley C. Ford
White River Branch
Discuss books in a fun and relaxed atmosphere. Copies of the titles will be available at the check-out desk the month before each meeting. For Adults.
Register
Tue / Mar. 22 / 4:30 p.m.
Code a Mission to Space
Trafalgar Branch
Read the book "Hidden Figures" and learn to code our own mission to space! For School-Age.
Register
Mon / Mar. 28 / 9 a.m.
Books & Beans Book Club @ Benjamin's Coffeehouse, Franklin - "City of Girls" by Elizabeth Gilbert
Do you like to read and drink coffee? Then check out JCPL's newest book club. We meet at coffee shops around the county to discuss new books, old books, best sellers and classics. This month's book is "City of Girls" by Elizabeth Gilbert. To reserve a copy, please contact any JCPL Branch. For Adults.
Register

Mon / Mar. 28 / 6 p.m.
Building Bridges for Kids - Feminism
Trafalgar Branch
Broaden your worldview with stories that confront bias and explore other cultures. Focus on a new theme each month as we start conversation about our diverse world through children's books. For School-Age.
Register

Wed / Mar. 30 / 1:30 p.m.
Wednesday Afternoon Book Discussion - "Giver of Stars" by Jojo Moyes
White River Branch
If you enjoy discussing books you've read, please join us. Copies of the book are available to checkout the month prior. A zoom option is available to participants. The link will be sent upon request. For Adults.
Register