You have taught them their ABCs and 123s, they have shined through a couple years at a day care program, and you're watching your children grow up so fast! Now it's time to decide where you want your child to go to school. If you are considering homeschooling - we're here to help.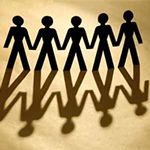 The thought of homeschooling your children may seem daunting. As a parent, you probably have several questions and concerns.
We asked homeschool teacher Tricia Lopez about her homeschooling advice:
Get involved in some type of co-op program so the kids get interaction with others. "We do a gym class once a week to keep the kids active and I think that's important as well," says Tricia. She explains that having a community of home schoolers makes a great support system.
Take a deep breath and relax! Don't try to cram schoolwork all day long. "When I started I felt I needed to cram everything in and work, work, work. I've learned to relax or it leads to a long day of rebellious children, which leads to an angry mom," says Tricia.

"A good homeschool day is no tears, no arguments, and happy, smiling faces," she said.
Two of our Children's Librarians also share their recommendations about homeschooling.
Sarah at the Franklin Branch hosts the Homeschool Hub, a series of programs just for homeschool families. Families can get to know other homeschool families and learn about the library.
Here are a couple of Sarah's points:
Homeschool parents qualify for a teacher card at JCPL. A teacher card allows homeschool parents to check out more books and keep them for longer periods of time for their home classroom.
Homeschool parents can check out teacher collections on a thematic unit of their choosing. For more information or to request a teacher collection, click here.

Laura at the Trafalgar Branch hosts the Homeschool Club (H-Club) and she homeschooled her children.
Here are Laura's top 10 recommendations:
Ask lots of questions, research online with key terms such as "homeschool success;" "homeschool curriculum reviews" or try curriculum review sites, such as:

Home School Reviews
The Home School Mom
Cathy Duffy Reviews
Choose a style of education that fits your family's needs. It will help you save money when choosing a curriculum. When choosing a curriculum matching your preference, look for progressive skill development in the lessons as well as subject coverage.
You can use our Book-a-Librarian service to get personalized, one-on-one assistance from a staff member in topics including locating library materials for homeschool study, using the library's online resources, and more. Call your library branch or fill out a request online by clicking here.
Attend workshops, online tutorials, and attend the Indiana Homeschool Convention held in the spring (the dates vary.)
Research local children's activity clubs: find an Upward program close to you, homeschool groups, 4-H clubs, Boy Scouts, Girl Scouts, Heritage Girls, and have fun getting involved with a community.
Choose a school routine that works best for your family and be consistent.
Plan to spend the whole "school time" interacting with your child, even if he or she is doing quiet or independent work.
Plan on several months of adjustment time while you and your child learn and grow together. Enjoy your time teaching and co-learning with the child.
Remember every homeschool is unique. You will have more amazing days than bad days. Enjoy this special time you share with your children!

All of our best,
The Johnson County Public Library Children's Staff
---
Click here if you would like to receive Memo for Mom and other helpful emails from the Johnson County Public Library. (FYI. We don't sell or pass along our email lists.)
Click here to see our Memo for Mom section on our website.
Click here if you have an idea for a topic and want to send it to us.