There's nothing more fun than a family outing – but as you know, the price tag can add up quickly. The good news is, you don't have to stay at home just because you're on a budget. We're always on the lookout for fun, family-friendly activities that won't break the bank.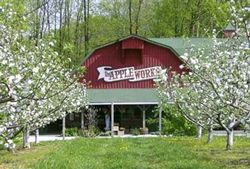 Luckily, there's no shortage of opportunities right here in Johnson County.
Recently we sat down to talk with Ryan Trares, Lifestyle writer at the Daily Journal, about some free or low cost activities your family can enjoy in Johnson County. Here are some of the ideas he suggests:
1. Greenwood Trail System: Spend an afternoon at your favorite park in Greenwood. Many of the trails are connected, so you can play at one park and ride to the next one if you live in that area. FREE!
Read more about it
2. Farmers Market: During the summer months, families enjoy visiting the Farmers Markets in Franklin and Greenwood. FREE!
Read about the Greenwood Farmers Market
Read about the Franklin Farmers Market
3. Flea Market in Bargersville: They sell old toys, antiques, clothes, etc. The flea market has more of a carnival type atmosphere with food trucks and vendors. FREE!
Read more about it
4. Apple Works: Another free and fun outdoor activity is Apple Works. They have nice grounds, a petting zoo, mazes for the kids, and of course mouthwatering apples if you are looking for a healthy snack. FREE!
Read more about it
5. The Historic Artcraft Theatre: Watch a classic movie on a Friday or Saturday night at the Historic Artcraft Theatre. They show family friendly movies and offer a craft for the kids at most of their showings. $3-$5
Read more about it
6. Johnson County Museum of History: The history museum has interesting artifacts and exhibits to discover. The exhibits change regularly, and a special exhibition about video games is coming in November. FREE!
Read more about it
7. Greenwood Community Center and Franklin Parks and Rec: Join a recreational activity or sports league at the Greenwood or Franklin Community Centers. They may have a small charge to use their facilities.
Read more about the Greenwood Community Center
Read about the Franklin Community Center
8. Johnson County Public Library: Ryan says the library always has good free activities. (Who are we to argue?) FREE!
Read more about it
---
Click here if you would like to receive Memo for Mom and other helpful emails from the Johnson County Public Library. (FYI. We don't sell or pass along our email lists.)
Click here to see our Memo for Mom section on our website.
Click here to follow Ryan Trares at the Daily Journal.
Click here if you have an idea for a topic and want to send it to us.