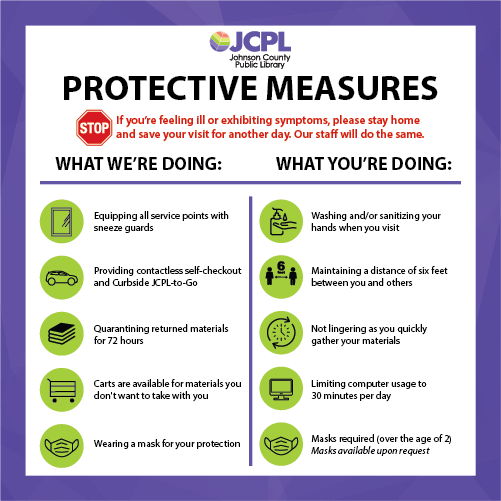 Let's Celebrate – We're Reopening June 22!
Beginning June 22, 2020 JCPL is reopening our buildings to the public, carefully, responsibly, and with great excitement.
What can you expect when you visit our buildings? Same great staff, same great books and… a few changes.
Signage and staff will greet you as you enter to let you know expectations for each phase of our reopening plan. We respectfully ask for your understanding as we navigate these changes.
Social distancing is required! Please maintain a six-foot distance between our staff and other patrons. You can expect to see floor markers and signage requesting your help.
Grab and Go! Through July, we ask that you quickly and efficiently use the library to get what you need and head out. While we love your company, we need your help in minimizing the length of time spent inside the buildings this summer.
Fewer seating options will be available. This summer, we are asking you to take your materials home with you instead of reading them in the library. Looking to "Read Down Your Fines?" Talk to a staff member about your options.
Computers are available on a first-come, first-served basis. Computer usage is limited to 30 minutes per day. A limited number of computers are available, as we have reconfigured spaces for social distancing. We have measures in place for staff to assist you from a distance.
We have implemented an enhanced cleaning schedule and hygiene protocols to help you stay healthy!


o Our staff wear masks to protect you. We require patrons over the age of two (2) who can medically tolerate masks to wear one while in the building. If you do not have one, masks are available free at the desk.
o If you are feeling ill or exhibiting any symptoms, please stay home and save your visit for another day, our staff does the same.
o We quarantine recently returned materials for 72 hours before reshelving
o Hand sanitizer and disinfecting wipes are available
o Carts are available to place materials you touch but don't want to check out
o Sneeze guards have been installed at all service points
o Signage is posted on the importance of clean hands and good respiratory etiquette

Curbside JCPL-to-Go is still available for no contact delivery of your requested material.
We are phasing in library services to allow us to reopen responsibly. The following activities will return later:
Toys, games, Kid Kits, children's computers and other interactives. Please reassure your children that these items will come back as soon as possible.
Newspapers
In-person programming: Virtual programming continues!
Meeting/study rooms
We are not currently accepting donations of books
It is our pleasure to welcome you back to the Library. Please be aware that some details may change. Updates are available via our website, Facebook, Instagram, Twitter or by calling your branch.
Frequently Asked Questions

The United Way of Johnson County
has created this special website page in an attempt to keep the community updated on the Johnson County health and human services agencies as it relates to the COVID-19 virus. Provides daily updates for area social service agencies, community meal locations, school based meals, and utilities.
Useful Links
In addition to phone calls, the library's chat reference will be available Monday-Sunday during regular library hours. Chat Live with a staff member, or text your questions to 317-900-4LIB (4542). Questions can also be emailed to Ask_us@jcplin.org A staff person will reply to you in 24 hours or less.

JCPL's online services have been expanded for you! Patrons are encouraged to use the library's extensive catalog of digital resources during the closure, including e-books, e-audiobooks, magazines, movies, music and more. During the closure, patrons will be able to checkout 12 items a month from our Hoopla service (instead of the usual 6). We have also temporarily expanded the selection of items in our Cloud Library e-book service. Residents of the JCPL district who do not have a card are encouraged to apply for a card online; staff will process your card and send you a card number for online access as quickly as possible.