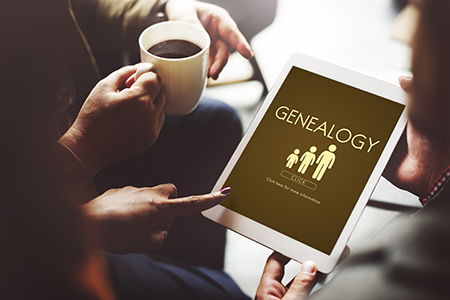 It used to be the case that researching your family history required cross-country road trips and spending hours buried in dusty archives and record rooms tracking down elusive birth dates and wedding anniversaries. The good news for budding local genealogists is that a great deal of your quest can be fulfilled using online tools, many of them provided by JCPL.
Learning the basics
If you're a genealogy novice, learning the basics of a family history project is an essential key to success. Luckily, you can do just that via the library's Gale Courses resource. Enroll free with your library card, then enjoy the six-week course at no cost. At the end of the class, you'll have a plan to get your work underway, and you'll have a nifty certificate of completion.
Searching the newspaper
If your family has roots in Johnson County or the surroundings, chances are they've made an appearance in our local paper of record, the Daily Journal. Several years ago, we were able to digitize our microfilm archive of the Journal, stretching back to the 19th century. All of those newspapers, and the archives of many other Central Indiana newspapers, are now available for easy "Google-style" keyword searching for no cost at any library branch. No more digging through reels of old microfilm! If your family isn't from Johnson County, the public library in that area may be willing to help. Many libraries offer genealogical research by email for little or no charge.
Using genealogical databases
You may have seen TV ads for the genealogy database Ancestry Online; did you know you can access it for free at any JCPL branch? Ancestry offers fully indexed searching of the U.S. census through 1940, as well as millions of other family histories, city directories, immigration records and much more. If you can't make it into the library, you can access HeritageQuest Online from any internet-connected computer with your library card. HeritageQuest offers many of the same resources as Ancestry with the added benefit of remote access.
Crowdsourcing your efforts
Once you've used the library's online resources (and visited our Historical Room), there are plenty of other tools on the web to help you continue your research. FamilySearch is a popular genealogy site provided by the The Church of Jesus Christ of Latter-day Saints, which includes loads of searchable records, as well as the ability to network with other genealogists, some of whose family trees may intersect with your own. And if you're ready to take your show on the road, the Allen County Public Library in Fort Wayne features one of the country's largest genealogy libraries.
However you choose to pursue your family history research, you have a fun and rewarding journey ahead of you. So good luck, and don't forget to ask your librarian for help!