Choosing a child care provider is one of the most important decisions you'll make as a parent. Trusting someone to assist with the care and development of your child can be stressful – especially if you've never done it before.
Is This the Right Place for My Child?
Click and download this free eBook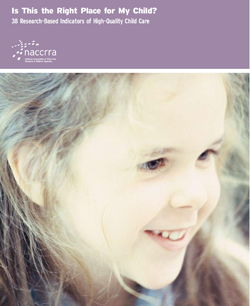 As a parent, you can be rest assured that many child care providers are better equipped now more than ever to provide a top-notch experience for your son or daughter.
Not only will your children be safe and happy, they'll also be getting an all-around early education experience, as well as the benefits of socializing with a group of kids their age.
With so many options out there, it's hard to know how to start looking. The good news is there are local organizations and online resources dedicated to helping you make the right decision.
In order to help demystify the process a little bit, we spoke to Michelle Terry at Child Care Answers. Child Care Answers provides information and referrals to parents seeking child care in Central Indiana, as well as education and training resources to parents and early childhood educators.
Don't put off your child care search
"Picking a provider can be stressful for families. Therefore, parents should give themselves time to make the best decision for their family. Also, providers may have waiting lists for enrollment and depending on when a family is in need of care, this can be beneficial or an eliminating factor," says Michelle.
Get a list of potential providers
The first thing to do is identify home day cares and child care centers in your area. The Child Care Search database on the Child Care Answers website lets you narrow down your list by county, city, and Paths to QUALITY Level (more on this later). The mapping function will allow you to find providers near your home and workplace. If you'd prefer more personalized help, you can contact Child Care Answers directly.
"Our Outreach Specialists are more than willing to do a thorough search for families based on their needs," says Michelle.
Narrow it down
Paths to QUALITY is Indiana's voluntary quality rating and improvement system for child care. Participating child care providers are rated on a scale of 1 to 4, with 4 being the highest level. The search feature on the Child Care Answers website will identify the Paths to QUALITY level each provider has obtained.
Inspection reports can also be a useful tool when evaluating a potential day care. All day care inspection reports are publicly accessible and searchable via the Indiana Family and Social Services Administration website.
"When reviewing an inspection report, it is imperative to see if there have been any incidents involving the health and safety of a child or children. You would also want to keep in mind the number of times a site has been cited for the same occurrence," says Michelle.
Interview prospects
Once you've identified potential candidates, it's time to meet them in person! Phone interviews are a great place to start, but you'll want to visit a day care at least once during the decision making process. Schedule a time to meet with the director and your children's teachers. You should have unlimited access to the center when visiting, but be respectful of naps and other sensitive times during the day.
There are lots of great checklists and questionnaires available on the Internet to make sure your site visit is comprehensive. This booklet from the National Association of Child Care Resource and Referral Agencies can be printed out and filled in on your site visit. A good provider should welcome questions!
Your potential provider should also provide you with a list of references. Talk to parents of children who attend the center, or who have attended recently. They can provide a different perspective and answer questions about what to expect.
If you are a parent of a child with special needs, there are many child care providers who are trained to give your son or daughter the specialized care they require. Michelle encourages these parents to contact Sarah Bailey, Inclusion Specialist at Child Care Answers, for more information.
Make a decision
Once you've finished your research, interviews, and site visits, you should have enough information to make your decision.
Keep in mind that enrolling your child is just the beginning of your relationship with your child care provider! You should be receiving a steady flow of information pertaining to your child's activities, diet, and development.
We hope this resource helps take some of the stress out of choosing a child care provider. For more information about Child Care Answers, visit their website or call toll-free (800)-272-2937.
All of our best,
The Johnson County Public Library Children's Staff
---
Click here if you would like to receive Memo for Mom and other helpful emails from the Johnson County Public Library. (FYI. We don't sell or pass along our email lists.)
Click here to see our Memo for Mom section on our website.
Click here if you have an idea for a topic and want to send it to us.