Loan Periods, Fines and Fees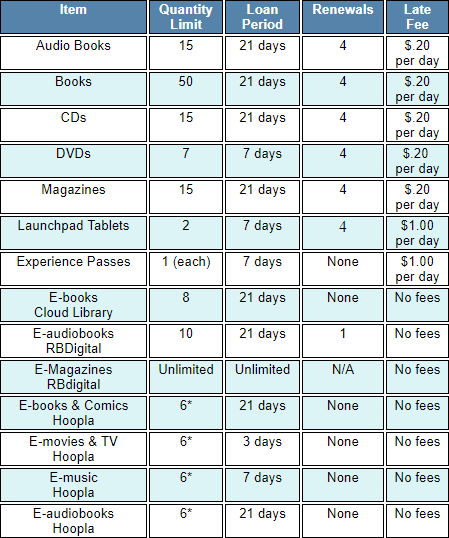 *Patrons using Hoopla may checkout 6 titles per month in any format. The borrowing limit resets on the first day of each month.
Other Limits
Total checkouts: 100
Total holds: 25
Total Interlibrary Loan Requests: 5 per week
Total Interlibrary Loan Checkouts: 10
Teacher's Collections
Teacher's Collections are available for any teacher who teaches in the Johnson County Public Library district. To place a request for a Teacher's Collection or for more information contact your nearest JCPL Branch or visit our Teachers page.
Please note: It is the responsibility of the teacher to pick up the collection and return it on time. Teachers are also responsible for any late fees, lost or damaged materials.