The Great Park Quest will send you exploring the wonderful parks located throughout Johnson County, Indiana during the months of June and July. As you explore the week's featured parks and complete activities, log your participation in Beanstack for a chance to win weekly prizes!
Quest Details

Starting June 1, visit Beanstack weekly for information about which parks to visit and activities to complete at the parks to earn points. Log your park visits in Beanstack to accumulate points and an entry to win a swag bag awarded weekly.
Look for Benjamin Bison's Golden Nugget while you're at the week's featured park! (See below for details). Clues will be provided each week on Beanstack directing you to the location of the golden nugget. If you find one, enter the code located on the bottom of the nugget in Beanstack for extra points toward your week's point tally. Don't forget to leave Benjamin Bison's Golden Nuggets in the park for the next participants on the quest!
Take pictures as you explore, and share them on social media with #GreatParkQuest to gather more points. The more points you earn, the better chance you have of winning that week's prize drawing!
Those who participate in at least four of the eight weeks of The Great Park Quest will also be eligible for a Artcraft Theater-themed Grand Prize drawing at the end of July.
Join us in The Great Park Quest!

How to Score Points
1 Point – Visit a park
5 Points – Submit a photo of your park visit to JCPL using a "picture review" in Beanstack
5 Points – Post a photo on your own social media with the hashtag #GreatParkQuest
10 Points – Enter the secret code from that week's Benjamin Bison's Golden Nugget--each Tuesday a new clue will be posted at the top of each week's activity badge.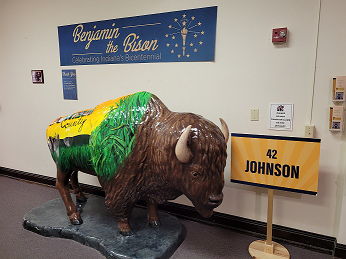 Week 1: Franklin, June 1-8
Week 2: Edinburgh, June 8-15
Week 3: Bargersville, June 15-22
Week 4: Greenwood, June 22-29
Week 5: New Whiteland/Whiteland, June 29-July 6
Week 6: StoryWalks, July 6-13
Week 7: Trafalgar/ Princes Lakes, July 13-20
Week 8: Johnson County Parks, July 20-31
Who is Benjamin Bison?
Benjamin Bison is a life-sized bison that was gifted to Johnson County for the bicentennial celebration of Indiana, also known as the Bison-Tennial. Benjamin commemorates the bison on the Indiana state seal, and he lives at the Johnson County Museum of History where you can visit him anytime. Benjamin the Bison has a treasure of eight golden nuggets. One day, the sly Freddie the Fox stole his golden nuggets and forced Benjamin to go on a quest to find them! He left Benjamin one clue for each nugget. Can you help Benjamin find his golden nuggets?
How to Use Beanstack

How Do I Track My Park Visits and Enter the Secret Codes?
Sign up at jcpl.beanstack.org to create a Beanstack account. What's Beanstack?
Returning Beanstack users: If you have participated in any JCPL reading program, you already have a Beanstack account. Log in at jcpl.beanstack.org or download the Beanstack Tracker mobile app for easy access while you visit the parks.
To use the mobile app: once you're registered/signed in, tap the purple plus + sign, choose an activity, choose the reader/family member and then enter your park visits, pictures and codes that you found.
Contact Us if you cannot remember how to access your account--please do not create a new one!
Additional information
The following Johnson County parks and recreation departments are participating along with JCPL StoryWalks in The Great Park Quest: