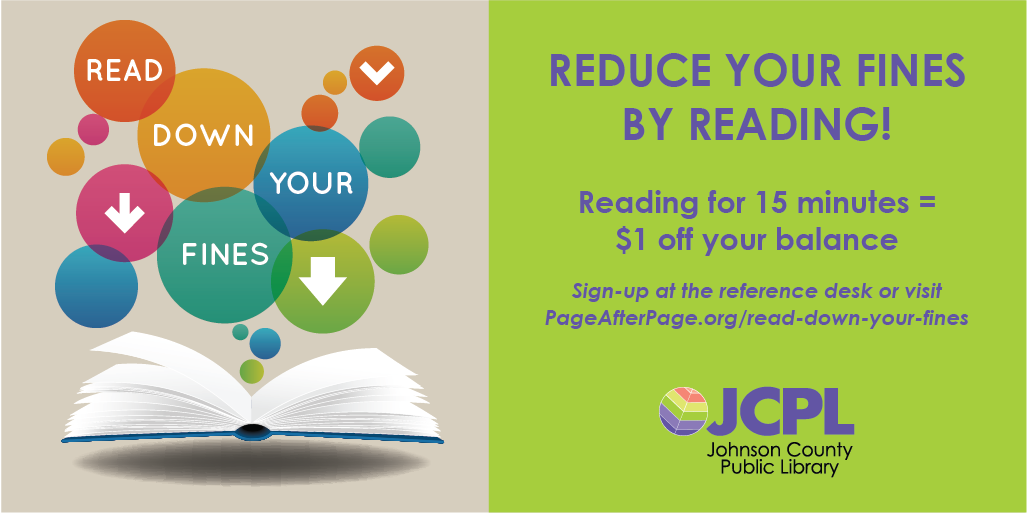 Do you have overdue fines on your library card? Now you can read those fines away.
How do I read down my fines?
Go to any reference desk at a JCPL branch and tell the librarian you want to read down your fines.

The librarian will sign you in and mark down your start time. (In order to be eligible, you must be signed in and complete your reading in the library.)

When you're done reading, stop by the desk again and sign out. The librarian will give you a voucher for the amount of time you read. All reading must be completed thirty minutes before the library closes.

How much of my fines can I read down?
Every 15 minutes of reading is worth $1.00. You can read down any and all of your overdue fines and/or processing fees. Replacement charges for lost items are not eligible. Reading time cannot be applied to future fines.

Who can participate in Read Down Your Fines?
JCPL patrons of all ages can participate. You can only read down fines on your own library card. If a child is too young to read alone, a parent or sibling may sit and read to him/her.

For complete rules and more information, contact your library branch.